Matt was a dedicated law student at the University at Buffalo Law School and was determined to someday be a named partner in his own law firm. After graduating from UB Law School with his Juris Doctorate in May of 2008, and then being admitted to the New York State Bar in February of 2009, he was well on his way to accomplishing his goal. Matt had been a law clerk at Doran and Murphy Law Firm in Buffalo, NY since 2006. As a result of his hard work and determination, Matt graciously accepted an associate position with the firm upon graduation and admittance to the New York State Bar.
During Matt's three years in Law School, he competed in moot court trial competitions across the country. Matt represented The University at Buffalo Law School in New York City, Texas, and Michigan. As a New York State regional team member, he received an individual award of Best Advocate. The award is given to the competitor who best demonstrates the qualities and skills of a trial attorney, and has the highest overall individual score throughout the first rounds of the competition. It is by far the most prestigious award that is presented by the Buffalo-Niagara Mock Trial Tournament. Since Matt's passing, Judge Tim Franczyk, organizer of the Buffalo-Niagara Mock Trial Tournament, has honored Matt by renaming this award "The Matthew J. Schnirel Memorial Best Advocate Award." Judge Franczyk said, "Matt is one of the finest, most talented student trial lawyers we've ever had in the UB Law School trial competition program. He was hardworking, intelligent, not flashy but very lawyer-like in every good sense of the term. He was a natural in the courtroom, and a first-class human being."
Matt was initially drawn to Doran and Murphy Law Firm because of the way they practice law, the close family atmosphere, and their honorable reputation. On the firm's website Matt wrote, "Doran & Murphy does not advertise on television. They do not plaster their pictures on the sides of phone books or on billboards. Rather, they get client referrals from past clients and other lawyers who know of their trial reputation and experience. They believe this says a lot more about the type of lawyers they are than any thirty second television ad could do. They are among the nations most experienced and best lawyers in the fields they practice." This unique approach was one of the many reasons Matt prided himself on working at Doran & Murphy. Chris Murphy, a partner at the firm, said "Matt was a superstar in the making. I still remember interviewing him three years ago for a law clerk's position. He's just one of those guys, as soon as you met him you knew he was going to be a great fit. I just knew he was a special person." Throughout his career, Doran & Murphy grew to become Matt's second family.
Matt worked closely with Senior Partner, Michael Doran, on multi-million dollar products liability and international tort actions. Doran was a great mentor to Matt, but also allowed him to have freedom to figure things out on his own; Matt jumped at the chance to learn all he could and follow in Doran's footsteps. Doran's brother, Tom, a paralegal with the firm, said that it was reassuring for him and his brother to be able to go out-of-town and not have to worry about the office. They knew Matt had everything under control and could take it upon himself to handle any situation should one arise.
Everyone would agree that Matt had the ability and drive to succeed in his law career, especially with the guidance and knowledge passed down from Doran. They were both very dedicated professionally, yet also had fun-loving personalities. Michael Torcello, an associate at the firm said, "Matt was born to be a trial lawyer. He knew more about being a trial lawyer coming out of law school than anyone you could imagine." Additionally, fellow associate, Colleen Murphy, recalls Matt always being one of the last ones to leave the office, and always coming in to work on weekends. She said that Matt was more excited about being admitted to the bar than anyone she had ever met. That describes Matt perfectly. He was hard-working and passionate about the law.
Although Matt's law career was short lived, he definitely built himself a great reputation in the law community. He worked very closely with his clients and was well respected among them. Chris Murphy said, "Matt's contributions to our practice have been invaluable and will doubtless prove to be irreplaceable."
---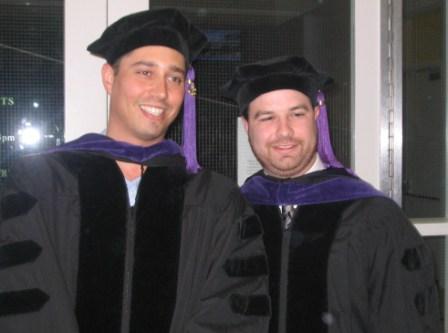 Brian Wisniewski & Matt
"I met Matt on our first day of law school. We were in a group of students that were going to be working together for the remainder of our first year. So after meeting Matt and speaking to him for a few minutes I learned that he was a Buffalo native who loved the city, the Buffalo Bills, baseball caps and his girlfriend…and so I sat down next to him. We joked about a few things, I appreciated his quick responses and almost perfect comedic timing, and we tried to learn the law.
In the coming weeks and months, Matt was right there next to me as we tried to understand and make sense of what Law School was all about. There were times of angst and pressure when I questioned my sanity and the course of study I had chosen, but Matt was right there calm and collected. And during those times, I learned more about him and who he was, what he stood for and who he cared about. Matt would always try and lighten the mood, tell a joke, and make everyone feel like the task at hand could be accomplished with a little work, a little humor and a little common sense. Because I had Matt as a friend, my three years in law school were enjoyable…and I don't know how many people can say that." ~ Brian Wisniewski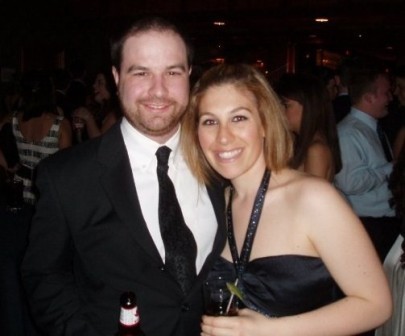 Kimberlee DeFazio & Matt
"Matt and I met our first year of law school and I remember it like it was yesterday. Initially, Matt and I only knew each other on a "hello" basis, however, that was forever changed at the end of our first year. I was fortunate enough to have accepted a position at Doran and Murphy and discovered that Matt had done the same.
In the beginning, Matt and I would briefly chat, but after only a couple weeks of working together I knew that he and I were going to be great friends, and great friends we were. Matt was one of the most reliable and dependable people I had ever met. I could always ask him a question and more often then not he knew the answer. If I was upset, he would listen. And one thing Matt always knew how to do was make me laugh. I must say that Matt was unlike any friend I had ever had before and for that I am forever grateful." ~ Kim DeFazio